PfClean Cleaning Technology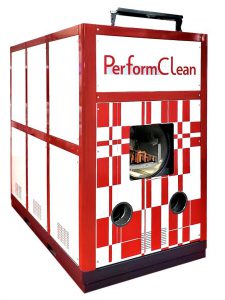 PerformClean machines are closed-circuit, single-chamber vacuum-cleaning and vacuum-drying-cleaning machines which work with modified alcohols and solvents.
Ultra cleanliness is achieved by:
Pre-cleaning by spray-washing
Full immersion in cold and hot solvent combined with ultrasonics
Rinsing
Final cleaning by solvent vapor
Vacuum drying to achieve spotless condition
The running costs are exceptionally low.
The process is environmentally friendly, since the solvent gets continuously distilled and reused. The technology is emission free because the cleaning takes place under vacuum in a hermetically sealed chamber.
The machine is fully PLC controlled. Processes can be easily adjusted for different applications.
High throughput is achieved by short cycle times.
Standard usable chamber sizes are:
450 x 300 x 300 mm
900 x 300 x 300 mm
520 x 450 x 300 mm
600 x 485 x 485 mm
900 x 485 x 485 mm
Larger sizes are available on request.
View the Full PerformClean Brochure
Find a Coating Service Partner for Your Next Job!