History
2010
PerformCoat is founded by industry veterans in order to provide industry with innovative thin-film technologies. From the beginning, a modular machine concept is established to achieve utmost flexibility while maintaining a high degree of standardization. The first PVD machines are built and a comprehensive and competitive coating portfolio is developed.
2011
PerformCoat North America is established as a showroom and support center for North America as well as a coating service supplier. Asian spare parts and support center starts in Taiwan. Several machines are installed in Asia and USA.
PfC 450 and PfC 400 DLC/RF are introduced in the market.
A competitive coating portfolio for cutting tools is developed.
2012
First machine is installed in Japan. HPfC Alu, a coating for machining of high and low Si containing aluminum alloys, is introduced at IMTS. Turnkey operations start up in the Philippines and Taiwan.
The compact PfC 300 machine for small operations is launched.
The PfC 600, the first PVD/PeCVD Hybrid, is introduced.
HPfC Hardmill coating for hard machining is introduced.
2013
Equipment assembly moves to a new building in Dettingen/Germany. PfC St 300 is introduced at the EMO. Turnkey operations start in Malaysia, Taiwan, Mexico, and France. The 25th PeformCoat coating machine is installed.
The PfC 650, a larger machine, is introduced for mold and die applications.
2014
First PerformCoat coating equipment is delivered to Latin America. Technical collaboration for sputter technology with Georg Erkens/Surcoatec starts. HPfC Titan, a revolutionary new coating for the machining of aerospace materials, is launched at GrindTec.
PfC 400 Hybrid for coating of wear components is launched.
2015
PerformCoat Korea is established. Turnkey operations start in USA and Korea. Revolutionary Duplex DLC treatment is launched.
The PfC 900, a large coater for high volume production and big dies, is introduced.
HPfC cast for machining of ductile cast iron is launched.
2016
Two turnkey coating centers are installed in South Korea.
New product lines for peripheral equipment are launched: PerformBrush, PerformClean, PerformDrag, and PerformMblast.
2017
PerformCoat is opening a new R&D and Application Development Center in Switzerland to accelerate innovation and to better serve European customers.
2018
PerformCoat enters India strongly with the realization of several turnkey projects.
Broadening the technology development partnership with the OSG Corporation, Japan.
Multiple types of equipment are installed on the US west coast.
New machines for degassing (PerformHeat), decoating (PerformStrip), and grinding (PerformGrind) complement the lineup.
2019
New fully equipped turnkey operation in Bursa, Turkey opened.
New R&D system with sputter, arc, and DLC capabilities placed in the development center.
Competitive treatment for gear cutting tools introduced in the market.
New innovative equipment platform, PfC 540, introduced.
2020
Ten year anniversary of PerformCoat, over 75 coating machines installed.
New coating facility opened in Arizona by our joint venture partner, Titanium Coating Services AZ, LLC.
Ten new PfC 540 coating machines installed in our coating centers worldwide, vastly expanding coating capacity.
2021
New service and manufacturing center, Primus Vietnam LLC, opened.
HP Dura, our new AlCrN based coatings launched for gear cutting and forming tools.
Primus Coating Oregon, LLC begins high end deco coatings and moves into a new facility.
2022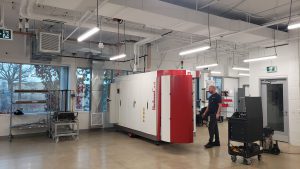 Primus Canada inaugurated.
Two more coating centers in Japan equipped with PfC coating technology.
PerformClean 450XL for difficult to clean part (e.g. 60xD drills with coolant holes) launched.